KL (deemed to be University) University organizes International Conference on Smart Power Grids and Power Systems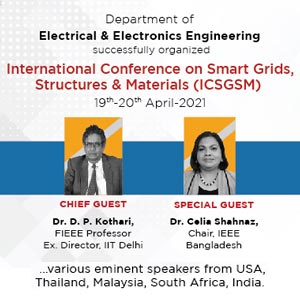 Impact and Applications of Contemporary Concepts & Technologies deliberated
The highlights of this online conference was participation of more than 100 delegates and eminent professors from foreign universities (US, Thailand, Malaysia and South Africa), and leading institutions from India. It provided a platform for research scholars and professionals to exchange research ideas and deliver expert talks in the thrust areas related to monitoring, metering, sensing, automation, communication, information security and IOT aspects of smart grids, besides renewable power integration and power system re-structuring.
On the occasion, Vice Chancellor, Dr. L.S.S. Reddy said, "As we know that there is a big impact of Smart Grid Technologies on the next generation energy consumption. The venture demands high level focused research and deployment of inter-disciplinary areas in electrical, electronics, computer, instrumentation, automation, and communication engineering with AI & ML. We understand the implications and hence organized such conference that helped researchers to deep dive into the subject and empower each other through knowledge sharing. Our University has emphasized on research & development, and our focus has been on development of product/process oriented technologies for sustainable growth. 35 faculty research groups/centres continuously work at University to ensure that intensive research activities are taken to the next level."
Inauguration of the conference started with the deliberation by Dr. Kothari, Delhi and Dr. Celia from Bangladesh, who talked about the importance, urgency, scope, and need for smart power grids. Later Dr. Ismail Musirin, Department of Electrical Engineering, Universiti Teknologi MARA (UiTM), Malaysia, Dr. Jai Govind Singh, Head–Department of Energy, Environment & Climate , Asian Institute of Technology (AIT), Thailand, Dr. Udochukwu Bola Akuru, Department of Electrical Engineering, Tshwane University of Technology, South Africa, and Dr. Rizwan from Delhi Technological University and others spoke on the contemporary issues related to the need for electric vehicles, future agenda, technological innovations in electric vehicle production, the shortage of fossil fuels, methods to fully harness solar and wind energy.
Various Keynote lectures were delivered by eminent speakers that include Dr. Vijayalakshmi Saravanan Department of Computer Science, Vassar College, New York, USA on Big Data and Data Science Applications, Challenges and Future Direction. Dr. L Ashok Kumar, Professer, PSG College of Technology, Coimbatore, Tamil Nadu, spoke on Power Converters for Electric Vehicles with various architecture, converters, and power trains of EVs. These talks were mainly focused on performance, research aspects, and opportunities in EV sectors. Dr. V. Karthikeyan NIT, Calicut, Kerala discussed about research perspective and challenges in EV Design, and its charging infrastructure.
The conference was orchestrated in 6 tracks of 4 parallel sessions, comprising 24 sessions in various domains that included smart grids, ev's, smart buildings, materials. Out of 230 research papers received by the organisers, only 96 papers were selected for presentation. The select accepted papers are also planned to be published in Springer lecture notes series conference proceedings which will be indexed in Scopus and web of science for recommendation as per the publisher.
The opportunity was also used to showcase a few unique projects created by the students of electronics and electrical engineering department, by displaying them virtually. These projects were appreciated by everyone. The main attraction out of these displayed projects was the electric vehicle conceptualized and created by student Sathya, and Sai Charan.
Dr. N. Venkat Ram, Pro-Vice Chancellor, KL; Dr. YVSSSV Prasada Rao, Registrar, KL; Principal, Dr. Subba Rao, and other University officials appreciated the efforts of students. Dr. J. Somlal, Department Head; Dr. Lalitha, Professor; Dr. A. Pandian, Convenor of the Conference; Dr. P. Srinivasa Varma, Co-convenor; Program Coordinators, Bhanu Prakash, Vijay Muni, Dr. Kiran Kumar, etc, were among the key resources in the organising of the event.