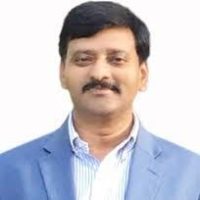 Dr Venkata Edara
Pro-Chancellor
"A distinguished educator, mentor to many, passionate researcher, global leader, Innovator, visionary, entrepreneur, good communicator, Keynote Speaker, International accreditation Specialist and scholar practitioner, Dr. Venkat Edara has 26+ years (21 years in USA and 5+ years India worked as a Chief Advisor to Government of AP state) of varied global business expertise." He is Global Certified Accreditation Specialist.
Dr. Edara is distinguished by his enthusiasm for teaching, vast learning, and bringing unbridled enthusiasm to all of his engagements. In addition to being an active participant in the Information Technology industry, Dr. Edara also served as the Chief Advisor for Technical & Higher Education in Government of Andhra Pradesh, India, an appointment by the Chief Minister of Andhra Pradesh. In his various roles as a senior executive with some of the world's best companies, he has combined his vast academic knowledge with industry experience to lead the design, development and implementation of cost-effective, high-performance technology solutions to meet challenging business needs.
Dr. Edara believes in the power of communication to bridge all kinds of barriers, and that is what has made him successful in all kinds of cultural as well as functional contexts. His outstanding oratorical skills make him hugely popular among executive management, peers, users and staff. CEOs have always turned to him to solve complex problems requiring deep understanding of not just the industry and client, but also of human behavior. It is not surprising, then, that he also an award-winning graduate faculty and scholar-practitioner . Students across the US and India consider him their lifelong teacher/mentor and he never fails to reach out to those who seek his guidance.
He has been practicing heartfulness meditation since 2000 and he is certified global trainer.
Dr.Venkat Edara born in Ongole, Prakasam Dist. Dr. Edara received his
PhD from Minneapolis, USA in Applied Management and decision Science (AMDS)
Master of Business Administration (MBA) from Columbia, USA
Bachelor of Engineering from Visakhapatnam, India
Certified International Accreditation evaluator (Expertise in National and International Accreditation policies and procedures)
Certified in Capability Maturity Model (CMM)
Certified TQM & ISO 9000 Specialist
Certified IBM Specialist
Certified Project Manager
Microsoft Certified Professional and Data base certified Professional
Certified Heartfulness Meditation trainer
Dr. Edara wrote books and published many conference papers and Journal papers.
Factors that Impact Software Project Success on offshore Information Technology Companies
Ways to Succeed in an Interview for your Dream Job (How to Excel in Interviews)
Higher Education in India
USA and India Educational Equivalancy Analysis
Research Thesis Writing (In Process)
He was recognized with many awards
Recipient of "Life Time Achievement Award " for the recognition of in the field of science and technology from Hon. Governor of AP State in 2019
Recipient of "Mother Teresa Seva Ratna Award 2019" for the recognition of the social services rendered to the society at the large from Mother Teresa Foundation
Recipient of " AP RATNA " award for the recognition of the distinguished services rendered to the society at the large in the year of 2018 from Hon. Minister of Social Justice & Empowerment Govt. of India in New Delhi
Recipient of "Dr. Alvin Rudisill" Exemplary Service Management and Technology Award for the Year of 2017 from Association of Technology, Management and Applied Engineering, USA
Recipient of "Best Entrepreneur award" from TANA, MI
Recipient of "Best FacultyPerformer Award" for the years of 2011, 2013, 2014, 2015 and 2016
Recipient of "Star Performer Award" from ITS, Inc for the years of 2003-2015
Recipient of "Best Employee Award" from WH software for the year of 1999, 2001
Received "Best Software Engineer/Programmer" award from Accenture, USA
Currently serving as a Pro-Chancellor to KL University, AP, Vijayawada 05/19-Till date
Dr. Venkat served 4 plus years in Government of AP State: (2014- 2019)
Advisor to Govt of AP State Department of Technical and Higher Education
Director to Andhra Pradesh State Quality Assurance Cell (APSQAC)
Convener of High Level Task force Committee in government of Andhra Pradesh State
Chief Technical Advisor to AP State Higher Education Council
Director//Program Chair/Lead Faculty, USA (2004-2014)
Lead Management Faculty in Forbes Business School, CA, USA
Lead Business Management Faculty in Keller Graduate School of Management, IL, USA
Business Management & MIS Faculty/Program Chair in Chancellor University, OH, USA
Director for South Asian Countries Accreditation Board (2nd Largest Body in the world)
Currently Serving in National & International Boards: 2004-Till date
Advisory Board Member of the College of Business Management in Franklin University, Ohio, USA
Advisory Board Member of the College of Information and Technology in Baker College, Michigan, USA
Assistant Executive Director for Epsilon Pi Tau, USA
Secretary to Sigma Iota Epsilon, the National Honorary and professional Management Fraternity, USA
Lead Peer Reviewer of the Saylor Foundation for Business Administration Program, USA
Chief Advisor to Heart fullness Education Trust
Executive Committee Member in LMOIS(Top 6th Best International School in India)
Executive Committee member in Heartfullness Organization
National Advisory Board member in Institution of Engineers India (IEI)
Fellow Ships:
Fellow of Institution of Engineers (India)
Fellow of Andhra Pradesh State Science Acadamy
Fellow of American Management Association
Fellow of American Acadamy of Management