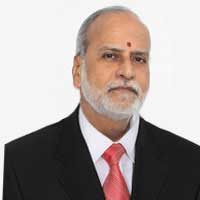 Dr R R L Kantam
Registrar
Dr.R.R.L. Kantam is a retired Professor of Statistics and former Registrar of Acharya Nagarjuna University, Guntur, Andhra Pradesh.
He graduated from Andhra University by securing first rank in B.Sc and was awarded Rajah of Kasmanda Memorial Medal and M.Kamayya Memorial Medal for the academic performance in B.Sc.  He did Masters program in Statistics at Andhra University, Visakhapatnam.  He is the recipient of National Merit Scholarship of Government of India for PG studies and University Grants Commission's JRF for research tenure.  He got selected for the prestigious Indian Statistical Service in 1980-81 by securing 14th rank at the all India level. He was awarded M.Phil in Statistics in 1984 November, Ph.D in Statistics in 1988 January from Acharya Nagarjuna University under the guidance of Professor V.L. Narasimham - founder Professor and Head, Department of Statistics – ANU.
He joined as a Lecturer (Assistant Professor) in Statistics for PG Students of ANU through a regular selection process in 1980. He got selected as Reader (Associate Professor) in Statistics in ANU through a regular selection process in 1988.  He was appointed as Professor of Statistics in ANU effective from 1998 through a specified screening process of UGC under CAS.  He retired from University service after attaining the age of superannuation.
He held various administrative positions.  He is an active member of organizing committees of all the Seminars / Workshops / Conferences / Refresher Courses organized by the Department of Statistics, Acharya Nagarjuna University as Secretary, Director, Convener etc. On the administrative front, he chaired Department of Statistics, Acharya Nagarjuna University during 1993-95, 2007-09, Board of PG Studies in Statistics, Acharya Nagarjuna University during 2001-03.  He served as Assistant Test Coordinator in designing the structure and operational procedures of common entrance tests of Acharya Nagarjuna University – BBM, MBA, NUCET, and Coordinator of Steering Committee NAAC Reaccreditation process ANU, Coordinator of Internal Quality Assurance Cell, ANU, and Director, International Students' Cell, ANU.  He functioned as Coordinator, Regional Jawahar Knowledge Centre, ANU, during the year  2008-13.  He was appointed as Registrar of Acharya Nagarjuna University and continued in the same position till superannuation.
He guided 8 students for M.Phil in statistics and 10 students for Ph.D. in statistics including two students from Tanzania (as International Researchers).
He authored 147 (83 National, 64 International) research publications appeared in various statistics journals published in India and other countries like US, UK, Germany, Pakistan, Srilanka and Bangladesh. He edited/reviewed 15 text books in Statistics. He presented invited Lectures/Keynote talks in 29 Conferences / Seminars /Symposia etc. of National/ International standards.
He is a reviewer of 21 Journals published in India/Abroad as listed below.
Journal of Applied Statistics (U.K.)
METRON (Italy)
Journal of Testing and Evaluation (USA)
Pakistan Journal of Statistics (Pakistan)
International Journal of Quality and Reliability Management (USA)
Communications in Statistics – Simulation and Computation (USA)
Journal of Statistics (Lahore, Pakistan)
Journal of Statistical Computations and Simulation (USA)
Journal of Probability and Statistical Science (Taiwan)
Statistics and Probability Letters (USA)
IAPQR – Transactions (India)
Assam Statistical Review (India)
Asian Journal of Quality (South Korea)
Measurement (UK)
Communications in Statistics – Theory and Methods (USA)
Gujarat Statistical Review (India)
Advances in Statistics (USA)
Sri Lankan Journal of Applied Statistics (Sri Lanka)
Colombian Journal of Statistics (South America)
European Scientific Journal (Albania)
Economic Quality Control (Germany)
He is a Member – Editorial Advisory Board of 6 Journals published from Pakistan, USA and Taiwan. He is a life member of following professional bodies.o:p>
Indian Society for Probability and Statistics (ISPS)
Indian Statistical Association (ISA)
Indian Association for Productivity, Quality & Reliability (IAPQR)
Society for Reliability Engineering Quality and Operations Management (SREQOM)
Gujarat Statistical Association (GSA)
His areas of research pursuit are Statistical Inference, Reliability Studies, Quality Control Methods and Actuarial Statistics.