About Placements
KL Deemed to be University is one of the top educational institutions in the country that offers excellent placement opportunities to its students through campus recruitment drives. Our students bagged lucrative placement offers from top software companies such as Microsoft, Google, Amazon, Deloitte, Cisco, TCS, Wipro, Mentor Graphics, Infosys, Capgemini among others. Our dedicated placement cell provides mentoring to students focussing on personality development, mock interviews, industry specific technological skill enhancement training programs and communication and leadership skills. The university has been collaborating with various leading software development companies and cutting-edge technology industries to provide job offers to students.  There is a huge demand for KL Deemed to be University graduates and the University believes in creating industry-ready talent and helping students fetch their dream jobs world-wide.
Objective of the Placement Program:
The main object of placement department is to bridge the gap between the industry and the academia by conducting necessary training sessions
Pre-placement Activities
We helps students in exploring placement opportunities by inviting various companies for campus placements who are in their 3rd year of program and are likely to graduate.
The final placements are the result of very systematic interactions with the industry and continuous career counselling for the students.  Right from the beginning of the program students are continuously counselled with regard to their career aspirations and options which in turn is vigorously followed up with the potential companies for participating in the placement program.  This not only helps the students in getting their Super Dream & Dream jobs but also assists the recruiters in identifying the right candidates.  The Phase wise activities are
PHASE-A
Parameters of competency / competency segments.
Concept of Total personality development.
Bridging gaps between company industry and academia
PHASE-B
Developing verbal & non-verbal communication skills.
Developing self-esteem & confidence building skills.
Developing aptitude, analytical, logical skills
Developing technical skills
Developing emotional intelligence & interpersonal skills.
Managerial & leadership skills.
PHASE-C
Development of positive attitude.
Development of meaningful perceptions.
Value additions for self & the organizations. Invent your own superlatives.
Overcoming inferiority & superiority syndromes & hesitant approaches.
Tips for conducting well in-group interactive sessions.
Importance of Successful counseling & mentoring for professionals. Motivational & moral Boosting measures
PHASE-D
Mock / simulated exercises
Company specific training
Online and Offline assessments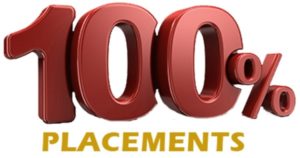 Professionals from various industries visit the Institute and interact with students on regular basis and guide them in accordance with the industry norm and standards.
Industry Collaborations
MOU with CISCO systems USA to Promote Training and Placements with Global Certification in Networking.
MOU with AMAZON  to Promote  Training and Placements with Global Certification in AI ,ML ,cloud and cloud security.
MOU with PALOALTO  to Promote  Training and Placements with Global Certification in cyber security.
MOU with CELONIS   to Promote  Training and Placements with Global Certification in data warehousing and mining.
MOU with blueprisim University   to Promote  Training and Placements with Global Certification in Robotics Automation.
MOU with MICROCHIP  to Promote  Training and Placements with Global Certification in PCB design.
Cognizant Digital Nurture Program and campus placements.
MOU with Being Zero for training in Coding.
MOU with VQR for training in Verbal, Quants and Reasoning.
MOU with Co-cubes for conducting online assessment and placements.