KLH, one of India's leading private universities organized the placement success meet 2023 at KLH Aziznagar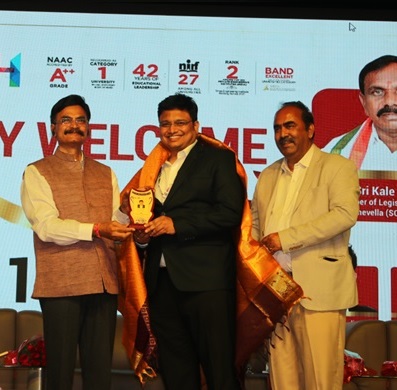 KL Deemed to be University, one of India's leading private universities organized the placement success meet 2023 at KLH Aziznagar, Hyderabad Campus on 8th April for the outgoing 2023 students of CSE, ECE, MBA & BBA courses. The event was graced by KL University President Sri Koneru Lakshmaiah and Vice-President Sri Koneru Havish. Mrs Parveen Ahmed, Regional Head, Talent Acquisition, TCS, Mr. Krishna Gollapudi, Executive Vice President, LTI Mind Tree and Mr. Ranganath Kondapaly, Principal Scientist, Microsoft who were also attended the success meet. During the current academic year, 300 companies visited the campuses and enrolled 2,810 students for job opportunities. Setting the benchmark, a total of 4,334 placements with multiple offers were received with an average CTC of Rs. 8.1 lakhs per annum. The highest package was secured from Amazon with a CTC of Rs. 44 lakhs per annum and a stipend of Rs. 13.8 lakhs per annum and four of our students have received the offer. Google, Microsoft, Cisco, JP Morgan, Service Now, Silicon Labs, Optum, Sneider Electric, Amazon, Philips, Siemens, and Intel were among the premium recruiters who participated in the campus recruitment drive. Prominent recruiters who offered a large number of job offers were TCS, Wipro, Cognizant, Wipro, L & T Mindtree, Cognizant, Accenture, and Capgemini.
Celebrating the pride moment as the placement season has approached a successful close, Sri Koneru Satyanarayana, President, KL Deemed to be University said, "We are proud of our students for their dedication in securing jobs top-notch companies. With the aim of providing better opportunities, KL Deemed University has provided a total number of 2,676 summer internships in various companies to their management students. A total of 269 internships have been provided to final-year engineering students and 914 offers have been provided through internship cum placement mode. Successful students along with their parents and family members attended the event. Students received mementoes and certificates from Distinguished Guests and cherished the moment with great joy. The event witnessed the presence of Dr. G. Pardha Saradhi Varma, Vice Chancellor, KL Deemed to be University, Dr. A Ramakrishna, Principal, Engineering, KLH Hyderabad Campus, Deans from the Department of Placements, Skill Development, Admissions, and MHS programs, besides other University senior officials to celebrate the occasion.