Suryanshu Basa rides high on the success WAVES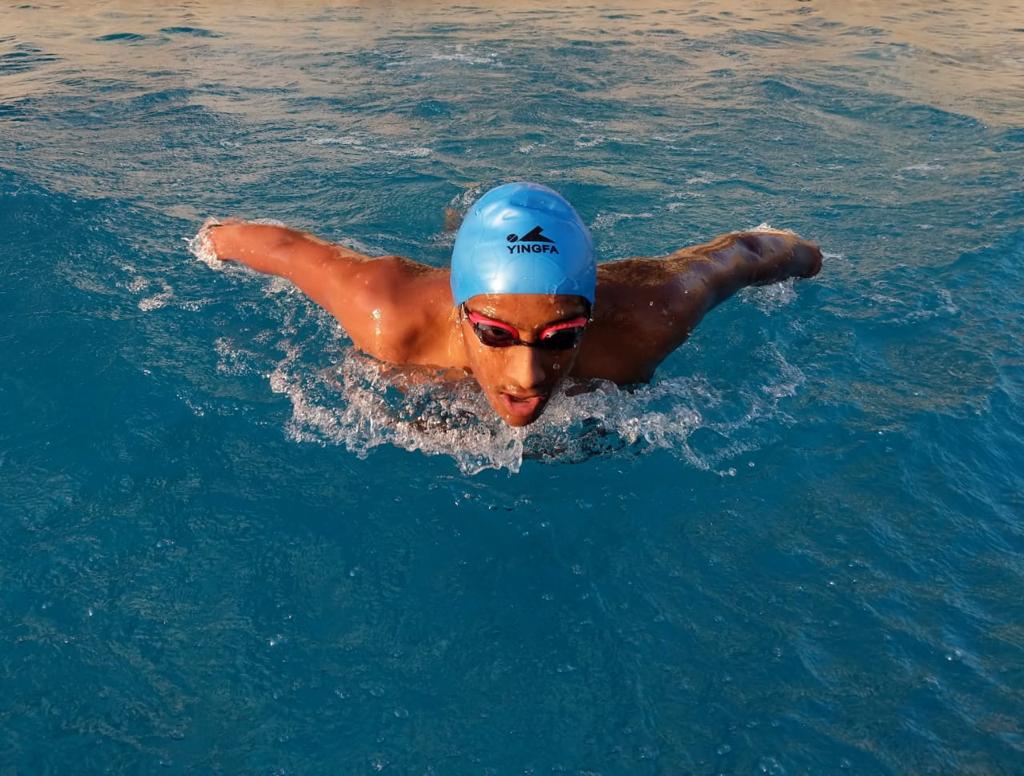 An astonishing Journey from fear to passion
Suryanshu Basa dived into his swimming career at the age of six. It all started when his mother realized that he feared water, and to overcome his fear, she made him join a swimming summer camp at Gachibowli stadium. The aggression and interest shown by him during the summer camp attracted the attention of his then coach Mr. Suresh, and he then took him into the professional training team. After that, Suryanshu, who is currently pursuing B. Tech. Second year (ECE branch) at KL Deemed to be University, Hyderabad campus never looked back.
When asked about what sports life had taught him in life? He replied, time management, mental stability, focus, and a strong mindset. It is the anxiety and thrill before the final event that gives me the real kick of life, and plunging into the water evokes a feeling of confidence in me.
Suryanshu believes that sports culture and encouragement in his school and University has influenced the impressionable minds of sportspeople like him. He acknowledges at KL Deemed to be University's enhanced level of academic flexibility and cooperation allows talented athletes to balance their studies with their hectic sporting schedule.
His daily route starts early in the morning, which includes a warm-up, strenuous exercises, and nearly 4-5 km of swimming- six days a week. During holidays the swimming routine extends to morning and evening sessions.
Over the past 12 years, he participated in various level swimming competitions across India, representing his State/District and school. Suryanshu Basa participated in AP/Telangana State Swimming Championships for Eleven consecutive years (2011-2022) and won 85 medals (51-Gold, 27-Silver, and 7 Bronze). He had won 200+ medals at various Dist/Club/Inter school-level competitions. He is representing Telangana state at the National level from the last 8 years.
Suryanshu's father, Mr. Mohan Basa, is a Senior Project Manager. He works in NVIDIA Graphics, and Suryanshu regards him as his role model. His mother, Mrs. Jyothika Basa, is a homemaker and helps him with his college work, training, and nutrition requirements. His younger brother Somanshu Basa is into professional swimming and basketball training at the Gachibowli stadium, and he regards Suryanshu as his role model.
During the early days of my training, my foundation coach Mr. Suresh used to call me Junior Michael Fred Phelps II after seeing my butterfly strokes. This compliment was one of the best compliments I have ever received, Suryanshu Basa said.
The Vice-Chancellor, Dr. G. Pardha Saradhi Varma of KL Deemed to be University, stated that the students should find and follow their passion and be inspired to be fearless in the pursuit of what sets their souls on fire. The University strives hard to meet the variegated sports interests of the students.
This young Indian swimmer now focuses on winning medals in the upcoming Senior Nationals, National Games (to be held in Gujarat), and University Games. He also has his plans chalked out for the future, where he wants to complete his M.S. abroad and build a career in Coding.
Suryanshu's present coach Mr. Ayush Yadav with whom he has an association of six years and who is currently preparing him for future games said that the confidence of Suryanshu carry stems from the rigorous training he has undergone since the start of this year. I am confident that he will bring home more medals this year. Suryanshu is presently undergoing training in the Sports Authority of Telangana, Gachibowli.
Suryanshu Basa informed that the University provided him with all the necessary support and encouragement to continue his seamless sports journey and provided fee waiver, the flexibility of timings, and conduct re-examination (if he misses any) before or during tournaments.
National Level Achievements:
Represented AP/Telangana state at "National Swimming Championship" for 8 consecutive years (2013-2021). Reached Finals in multiple events and secured career best of 5th position.
Participated in "Khelo India Youth National Games" representing Telangana Swimming Federation in 2019 (Pune, Maharashtra) and secured 8th position.
Participated in "Khelo India Youth National Games" representing Telangana Swimming Federation in June, 2022 (Ambala, Haryana).
Participated in "National Inter-Club Swimming Championship" and won a Bronze medal for Telangana Swimming club in 2017.
Represented School at "CBSE National School Games" and won 1-Gold,1-Silver and 1 Bronze Medals at Sonipat (2017) and Meerut (2015).
Represented School at "CBSE South Zone School Games"3-Gold, 3-Silver and 1 Bronze medals at Nagpur (2017) and Shikaripura (2015).
Represented AP/Telangana state at "South Zone Swimming Championship" for 7 consecutive years (2013-2019) and won 18 medals (5 Silver and 13 Bronze).