Animation & Gaming Orientation Program Commences
Posted by

Categories

Blog

Date

06-09-2022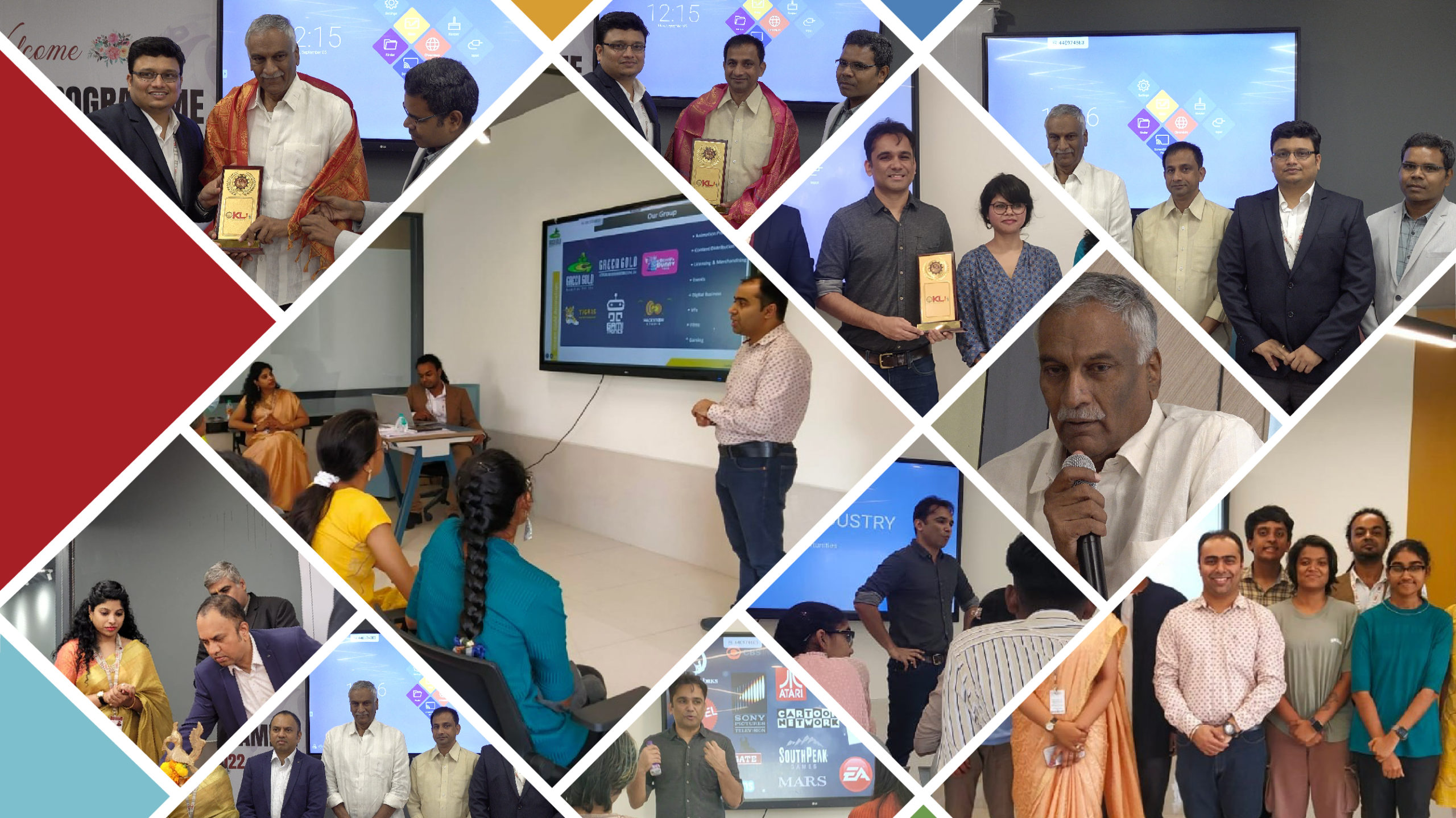 The campus of KL Global Business School (KLGBS), Hyderabad, hosted the inauguration of the orientation program for its first B.Sc. Animation & Gaming batch. This seven-day orientation program educates the students about the contemporary trends, future advancement, and latest development in the animation, gaming and entertainment industry. The occasion was also an opportunity for students to know and get briefed about the various approaches, methodology and campus life awaiting for them.
Three imminent Guests of honor who graced the occasion:
Srikanth Pottekula (CEO and Founder of Discreet Arts)
Mr. Srikanth Pottekula, a prominent entrepreneur, start-up consultant, and business and strategy developer, dealing with organization and process restructuring and project management, said that He is into media and animation since 1995. He was the production head at DQ Entertainment for the 3D animated series Mickey Mouse and the Club House. He has co-produced the TV series Twisted Whiskers with American Greetings and has been the CEO at Discreet Arts since 2012. Discreet Arts studios are located in India, the Philippines, and the USA. Discreet Arts is well known for animated titles such as "Tashi", "Marco Polo", "Monster Island", "The Hive", and "Captain Morten and the Spider Queen" amongst many others.
Advice to students: The animation and gaming industry underwent a sea change in the past ten years, and this market is expanding in India and abroad. A career in animation and gaming can change your life forever.
Mr. Tammareddy Bharadwaj (Prominent Producer and Director in Tollywood)
Mr. Tammareddy Bharadwaj pursued a career as a Civil Engineer in Andhra Pradesh Irrigation Department. He then stepped into the film industry in 1979 as a producer and director. He has worked on titles like "Maro Kurukshetram", "Manmadha Samrajyam", "Alajadi", "Siva Sakthi", "Urmila", One by Two", "Rowdy Annayya", "Kuthuru", "Sanchalanam", "Entha Bagundho" and many more since then, he has also acted in the movie "Ee Rojullo" as himself, received Swarna (Gold) Nandi Award for Best Feature Film for the movie "Pothe Poni".
Advice to students: Creativity plays a major role in the growing gaming and animation industry. So, if you want to sustain and make a mark in this market, you should be innovative and creative.
Mr. Rajiv Chilaka (Founder and CEO of Green Gold Animations)
Mr. Rajiv Chilaka is the creator of the Krishna cartoon series and Chhota Bheem, which have now been made into animated series and films. Mr Chilaka did his BE in Electronics and Telecommunications engineering; and later Animation course at the Academy of Art University. He set up Green Gold Animations in 2001, the animated series "Bongo" was the studio's first creation in 2004, followed by Vikram Betal in 2005, which was aired on a cartoon network. Characters like Krishna, Mighty Raju, Chhota Bheem, and Chutki are well-known by every child and adult in our country. A few amongst many achievements of Mr. Rajiv Chilaka is an honorary doctorate of humane letters by the Academy of Art University, San Francisco.
Advice to students: Animation is a competitive area, and with relevant work experience and technical skills, you can attain great heights in your career.
Mr. Imtiaz Hussain (Co-founder Yesgnome Studios)
Mr. Imtiaz spoke individually with every student getting to know them personally. After that, he shared detailed information about Yesgnome, its partnerships, and the project on which they worked. He offered event passes to the students for the International Game Development Conference at Novotel in November 2022. He gave a deep insight into the potential of the gaming industry and how its profits surpass those of the entertainment industry. He told the students the importance of having a mentor, making reading a daily habit, growing their network, getting out of their comfort zone, trying new things, and inspiring people.
Advice to students: The gaming industry provides a bundle of opportunities for budding learners. It's time to grab them.
Ms. Jyoti Bhoir Technical (Art Lead, Yesgnome Studios)
Ms. Jyoti Bhoir, who deals with artists and programmers, gave the students information about the game creation process, the importance of having strong fundamentals in color and drawing for artists and logic for programmers. She shared the reality of the competition in the current job market, after which she answered questions regarding portfolio requirements while applying for a job.
Mr. Anubhav Khanna (General Manager, 2D production Department, Green Gold Animation)
He spoke about the usefulness of storytelling and how the students need to watch a lot of movies and try to understand how emotions are conveyed through images. He also shared the work ethics followed by animators in Japan, which he learned during his tenure at Nihodo Media. He gave tips to the students and faculty about learning animation and answered education and industry-related questions.
Advice to students: If you want to pursue a career in the animation and gaming industry, ensure that you have strong foundations in the drawing. KLH GBS is a premier educational institution in India that has always looked ahead and incorporates a world-class curriculum structure for students. The institution constantly formulates and executes ideas for the holistic development of the students in the current disruptive and changing times following the New Education Policy and changing conditions in the educational sphere.