KLH Student Surpasses at the 5th Youth Games National Championship -2022
Posted by

Categories

Blog

Date

29-10-2022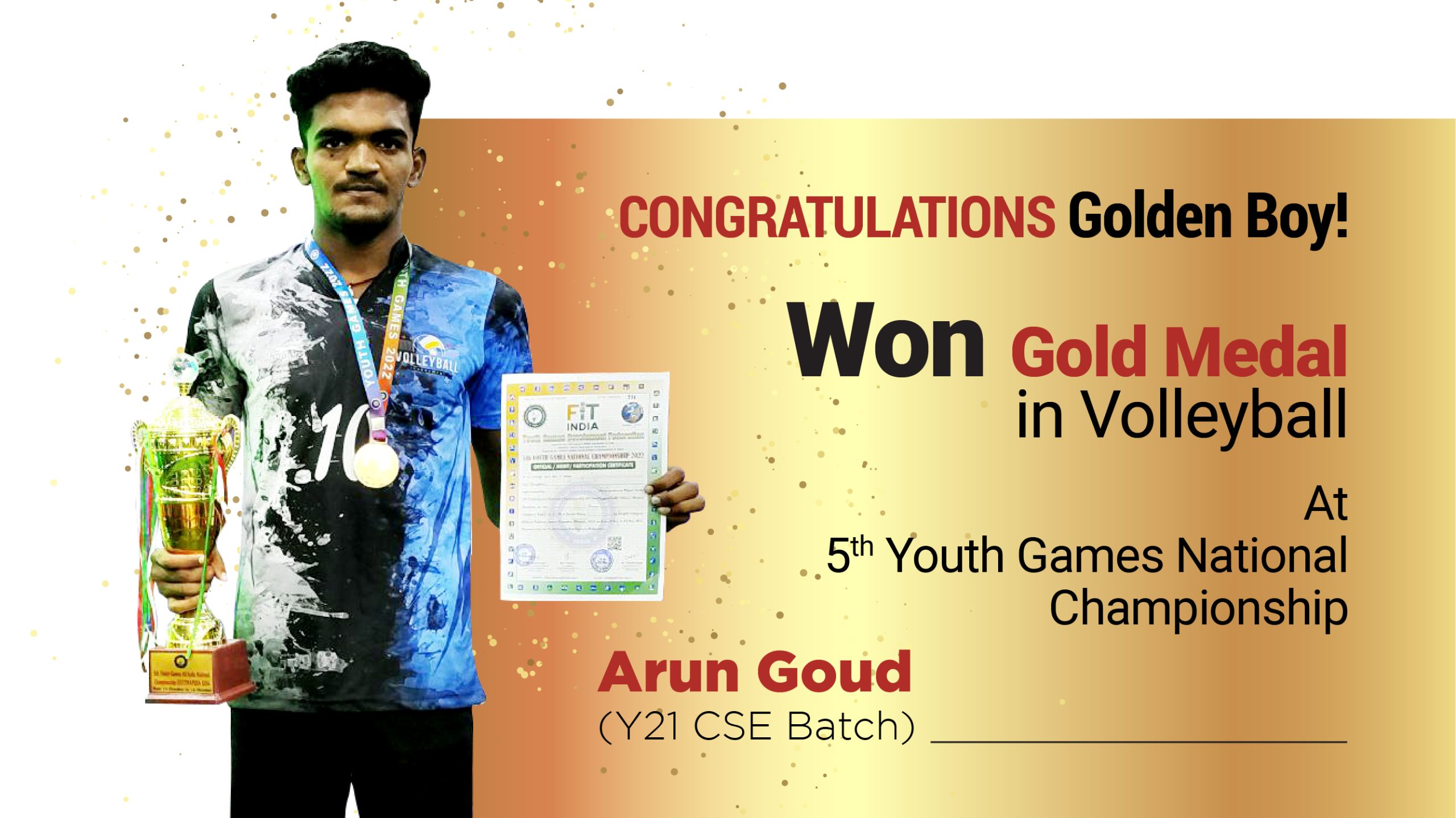 Here's the story of Baddam Arun Goud, a student of KL Deemed to be University Hyderabad Campus, who is a budding Volleyball player from Telangana, obsessed with the sport.
When he was ten years old, Arun's mother, Mrs. Bhagya Laxmi, made him join a volleyball summer camp at Saroornagar Indoor Stadium. The discipline and interest shown by him during the summer camp attracted the attention of his then coach Mrs. Ramadevi, and he then took him into the professional training team.
Over the past 12 years, he participated in various level volleyball competitions across India, representing his State/District/School/College. He had won 20+ medals at various District/Club/Inter School-Level Competitions. He has been representing Telangana state at the National level for the last three years. Arun Goud is a position setter, and he is inspired by the American volleyball player Micah Makanamaikalani Christenson.
When asked why he likes this sport? He replied, "Volleyball is my passion, and it is undoubtedly one of the most fascinating sports in the world." He feels that every sportsperson experiences sweat, despair, toil, joy, and triumph during their early learning days, and his sports career is no different. His daily route starts in the early morning at 4 am, with warm-up exercises, stretching, and strenuous exercises, and he runs for about 4-5 km six days a week. For the past four years, he has been undergoing sand practice at LB Stadium, Hyderabad.
Arun is pursuing B.Tech Second year, CSE branch, Specialization in AI & ML at KL Deemed to be University Hyderabad campus. He is happy that he is studying at KL Deemed to be University, which has world-class sports facilities on the campus, which helps him, make the most of his time at the university. The university staff is very cooperative and supportive and provided me with fee waiver support and academic flexibility. They even conduct re-examinations for all sportspersons who have missed their exams due to tournaments and practice sessions.
This young Indian volleyball player is now looking forward to representing India and playing his best. He aspires to win gold medals in the upcoming Senior Nationals, National Games (to be held in KIIT, Buwaneshwar), Asian Games (under-21 category), and University Games.
Arun's father, Mr. Krishna Goud, is a businessman. He has his own construction business named Sri Krishna Construction. He was a former Running champion, and he represented the united AP state at various events and won many gold medals. Arun regards his father as his role model and inspiration. His mother, Mrs. Bhagya Laxmi, is a Beautician. His elder brother Mr. Sharan Teja Goud is currently pursuing his LLB-Final year in Corporate Law. He is a professional Pro-Kabbadi player from Telangana and won many medals in various Kabbadi competitions.
Arun even tried his luck in Modelling, where he modeled for Reenex International Sports brand (for volleyball). In the future, Arun and his elder brother Sharan Teja plan to open academies for Volleyball and Kabaddi training, respectively.
The Vice-Chancellor, Dr. G. Pardha Saradhi Varma of KL Deemed to be University, stated that the values learned in sports are parallel to those in life. Without perseverance and a winning spirit, one cannot attain one's goals. We at KLU will continue to nurture a culture of sports to catapult our students to the global arena.
National Level Achievements:
Won Gold medal in the 5th Youth Games National Championship -2022 for Team Telangana. This event was held at Mapusa, Goa, and was organized by the Youth Games Federation of India.
Won Silver medal in 34th Monfort National Games, held at Uppal, Hyderabad (2017-2018) for Team Telangana (LFJC), and the event was organized by St. Monfort Association.
Participated in 23rd Youth National Volleyball Championship for Team Telangana. The event was held at Rudrapur, Uttrakhand, and was organized by the Volleyball Federation of India.
Participated in University Games, Vijayawada, 2021
Participated in South Zone Games, held in SRM, Chennai.